I had intended to start this blog based on several recent musical experiences, most recently with the first night of Rat vs. Possum's July residency in The Tote. Except I went to Sydney on Thursday and by the time I got back on Monday and slept all day Tuesday, it felt somewhat incongruous to the nature of blogging to begin with something almost a week old.
So instead, let's concentrate on the much more recent past, with the second night of RvsP's exciting month-long residency. Exciting in terms of the support bands assembled, who make up a large contingent of the most interesting bands in Melbourne, in that it turns the mid-week lows on its head (it really does feel like Wednesdays are the new Fridays right now) and of course in the opportunity to see the always wonderful Rat Vs. Possum each week.
With all those positive vibes, it's a shame to have to begin with a something a downer. I missed East Brunswick All Girls Choir, who I haven't seen but heard great things about, and arrived just in time to catch Cuba Is Japan. These multi-instrumentalists play mostly instrumental music, which is based around some kind of nautical concept if I remember right. The Tote was already pretty packed by this stage and the eminently beautiful crowd were clearly up for some high-drama post-rock. You certainly couldn't fault their enthusiasm but for all the obvious passion these guys have for what they're doing, I was totally unmoved. As I say, just about everyone else seemed to love it but for me, I just feel like I've seen it all before.
The Tantrums are a fairly sinister trio playing creepy, percussive electronica, reminiscent of New York archetypes Dark Day and Ike Yard, as well as contemporaries HTRK. They are also incredible. I knew nothing of The Tantrums before tonight but this quietly intense set, ranging from songs of sparse bleeps, punctuated by unhinged yelps, to a nice groove at the end, had me fixated. Cannot wait to see these guys again.
Rat vs. Possum are just great. That's the kind of goofy none-speak these guys elicit and it's no bad thing. Every time I see them there is such a joyous, harmonious atmosphere amongst the audience that you kind of feel that instead of playing their whacked-out, tom-heavy psychedelic anthems, these four misfits are actually the good witches of Brunswick casting blissful spells on us all, intent on converting the world to their doctrine of love for heroic apes, glitter, and communal fruit. Tonight seems like the apex of that ambition. Although I doubt it is, it just seems that way. Maybe it's the awesome Rainbow Light Experiment. Maybe it's the way The Tote is beyond packed but no-one is uncomfortable, instead everyone seems just on the right side of drunk. Maybe it's the way everyone here seems to be friends and the sense of community is palpable. It's probably all those things but I think it's mostly the prospect of once again seeing a band who do everything right and who never fail to delight live.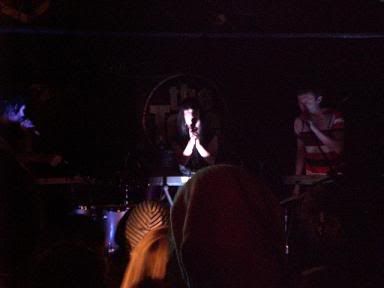 Oddly then, two new songs of a markedly darker tone open the set, beginning with a Velvet Underground-style dirge before seguing into more familiar driving rhythms. I liked them a lot and so did the rest of the crowd it seemed, especially the drunk girls beside me – 'Ooh, new songs and I love them already!' It was the 'hits' from then on, each lovingly danced to, applauded and consumed by the crowd who by mid-way through the set had invaded the side of the stage. And of course there was the moment everyone was waiting for - the sing-along of the most ingenious refrain since 'Are we not men? We are Devo!' I guess that was the apex, for now.


Earlier this week I compared RvsP to a cross between Indian Jewelry and Pocahaunted but I'm already thinking that is not really true. They certainly fit with the current nu-psychedelic zeitgeist and you could draw references with bands ranging from Ducktails to much of the Paw Tracks roster, not to mention legends like Popol Vuh and Can. However, the multi-percussive, mulit-layered anthems RvsP construct, appear to be more the product of joyful experimentation between friends and a passion for creating, collaborating and performing than any external influences. That they are able to subvert this insular approach and create something of true communal jubilance is perhaps what makes them, you know, just great.
Next week the amazing Parking Lot Experiments will be playing their lovingly-crafted lo-fi gems, along with Pschue and Milk Teddy, as well as intriguing performance artists, V Dentatas, and of course the darlings of July themselves.
See you there!